For Older Kids
Jump to a section: New Books for Older Kids | Programs for Older Kids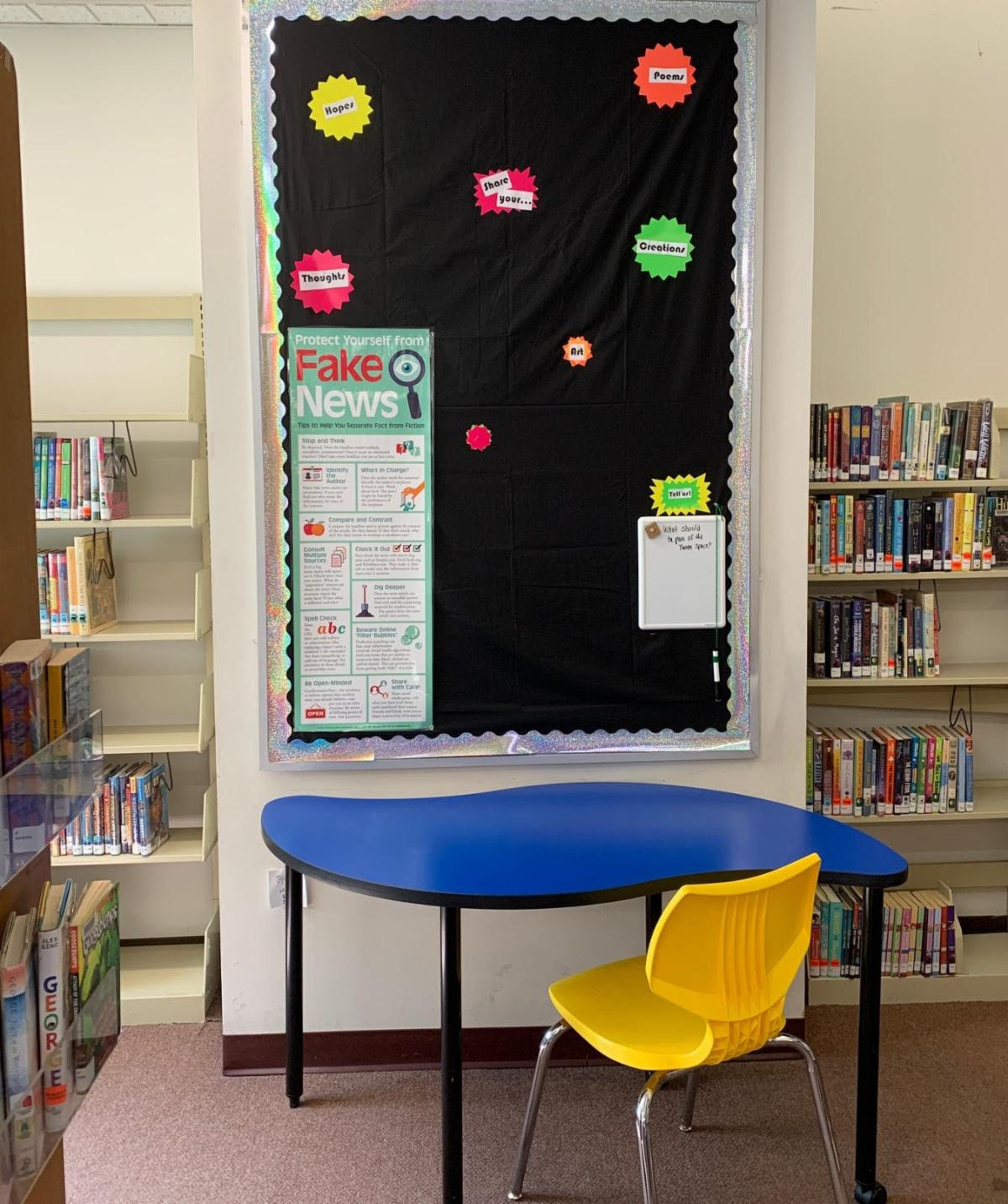 Did you know we have an Older Kids' Corner in the Children's room? This space is aimed at older kids who want a space of their own in the library but who aren't old enough to hang out in the Teen Room. Older kids can read, study, and hang out, as well as interact with our bulletin board. Please note that an adult must accompany all kids under the age of 10 and should remain in the Children's Room. Kids ages 10 and older may use the library independantly.
Our children's room also has an exciting selection of books for older kids -- and we are constantly ordering the latest fiction, nonfiction, and graphic novels. Come on in and browse the collection and say hello!
We also offer exciting programs for older kids ages 9-11. Keep reading to see all the exciting things the library has to offer for older kids!
New Books for Older Kids
Programs for Older Kids
All programming and services for older kids are aimed at kids ages 9-11 (typically in grades 3-6). Please note, all programs are subject to change due to the pandemic. Information will be updated immediately if any changes occur. Click on a program below to learn more!
Recurring Events
We will be setting up the Children's Program Room with various craft supplies and providing ideas - or you can come with your own ideas and make something with what we've got! This a not a librarian led program. This program is for kids ages 9-11. No registration required; sign in at the door.
Crafternoons for Older Kids Upcoming Dates
January 26, 3-5 PM - CANCELLED
February 16, 2-4 PM - CANCELLED
You must register for each month's loot bag separately, by current grade level. Registration for each month's loot bag goes live the first day of each month and closes on the last day of the month.
Have you ever wanted a monthly subscription box, but couldn't buy it? That's where we come in. With Ventress Memorial Library's monthly Loot Bags, you get goodies to fit each month's theme (supplies may vary) and quick pick reading materials, including a book of your own to keep! Please note that books will be selected to match the registrant's reading interests, and that the theme pertains only to the additional goodies.
Winter/Spring Monthly Themes:
What does a loot bag come with?
Return the two library books and keep everything else!
2 library books (prechecked out to your library card)
1 book to keep
Coloring & activity sheets
Other goodies to fit the theme
When are Loot Bags available?
All Loot Bags are filled during the last week of each month, after registration for that month closes. We strive to fill these as soon as possible. If you register during the last week of the month, you will receive your Loot Bag, but note that we will fill bags in the order of registration.
You will receive an email when your Loot Bag is ready for pickup.
Sign up for a half-hour slot to try something new in The Wave Makerspace. Kids ages 10 and up may attend alone or with a parent or adult caregiver. Below is a list of things you might try:
Learn how to 3D Print (many prints take longer than a half hour; participants may start a print then pick it up when it is ready)
Learn how to use the Cricut (cut out adhesive vinyl or an iron on to add a personal touch to an item of yours)
Try out the Go Pro (practice using the camera and making a video on our iMac)
Tinker with our Tech Kits (we have Little Bits, Snap Circuits, Mini Robots, and more!)
Get Crafty (we have pearler beads, yarn, crochet needles, bracelet making, and paper crafts)
How It Works
Due to the hands-on nature of this program, registration is required. Please note that advance registration guarantees an available slot. Drop-ins may be allowed if space is available. Kids may bring a sibling or a friend (also ages 9-11). Kids younger than 10 must have an adult join them; ages 10 and up may be in the library without an adult. Parents or caregivers may attend if interested, but are not required to attend. There is a maximum of three participants, including the adult. Older folks in grades 6-12 can register for Teen Makers.
Upcoming Dates
Join us on the first half day Wednesday of the month to enjoy fresh popped popcorn and an older kid movie. This program is designed for our older kids (grades 3-6) to watch while their grown up hangs out at the library.
---