Teen Programs
Teen programs are for folks ages 12-18 unless otherwise specified. Visit our online Events Calendar for current dates and times. Please note, all programs are subject to change. Information will be updated immediately if any changes occur.
Special Events | Regular Programs
---
Special Events
---
Regular Programs
Click on a program to learn more about how you can game, tinker, volunteer, and explore at the Ventress Memorial Library.
---
Teen Board Game Nights!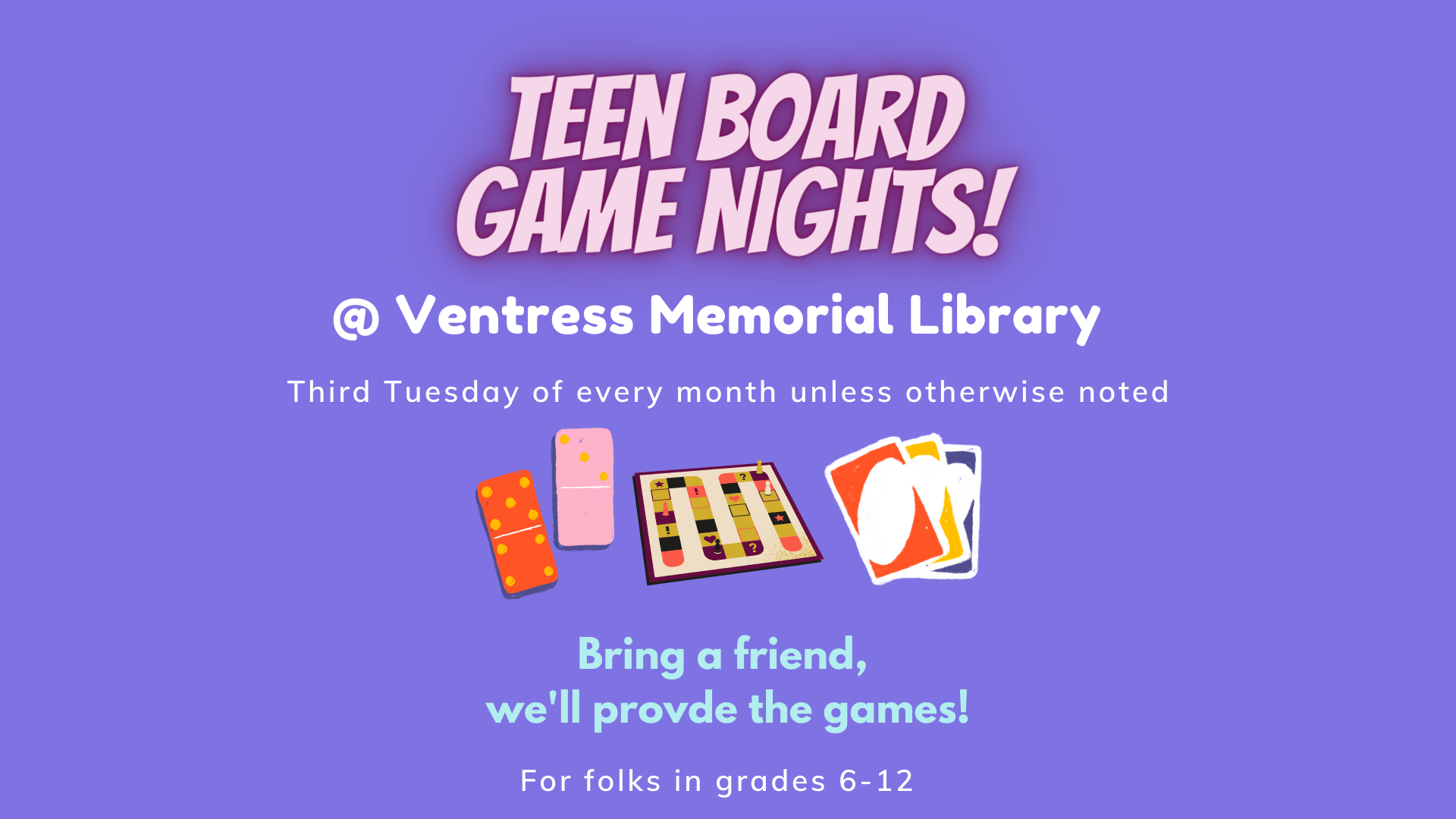 Are you a pro at Settlers of Catan? Does playing Uno for hours with your friends sound like the ideal night out on the town? Come to the Ventress Memorial Library for Teen Board Game Night! Choose a game from our collection and play the night away! If there's a game you want to make sure is available for board game night, email the title of the game to Tori!
---
Dungeons & Dragons
In-Person Games
We are offering several D&D opportunities for teens! Whether your a new or seasoned player, there's something for you at Ventress Memorial Library!
Red Campaign (Wednesdays 5-7 pm)
We run long campaigns and one-shot games. Players may register in the middle of long campaigns if space allows. Please note that all players are expected to follow the D&D Etiquette Guidelines. We also strongly encourage you to sign up for a free DnD Beyond Account. We also encourage you to sign up for our Discord server.
Character Disclaimer
All players for campaigns must have their character sheet approved. We have players set up new characters for every campaign. Please note that while we strive to be as flexible as possible with character preference, we cannot accomodate every character request, but we welcome questions. We strive for a balance of power and characters that fit the specific campaign. No evil characters - no exceptions. The Dungeon Master reserves the right to make any necessary changes to character sheets. All character sheets will be made on D&D Beyond, and players will have access to their electronic character sheets after our campaigns for personal use. For more information, please read our Character Creation Rules.
Join Our Discord
All interested teens may join our Discord server - you do not need to be in an active campaign, just interested in D&D and a teen. Teens outside of Marshfield who have played, are playing, or are interested in our virtual games, may also join.
---
The TVs! : Teen Leaders of Ventress Memorial Library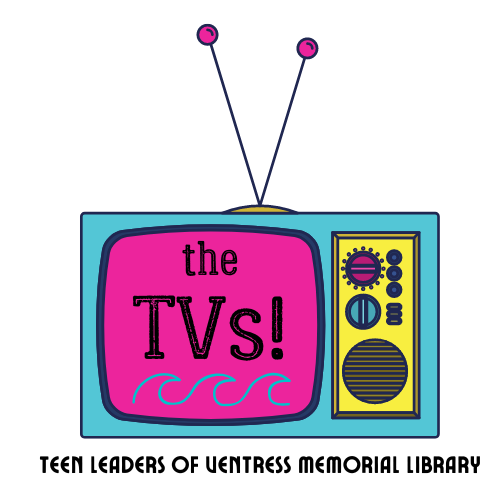 Get experience planning programs and working together in a team while you share your voice and what matters to you! With support from the Teen Services Librarian, the TVs! will work together to make teen programs by teens, for teens. TVs! will also help the library by voting on books and games to add to our collection, brainstorm ways to boost engagement with other teens in the community, and continuously make the Teen Zone a safe and welcoming space for all!
View our Events Calendar for specific meeting dates.
---
Volunteering
We appreciate the work our wonderful volunteers do for our library. Teens ages 12-17 are welcome to volunteer at the library - you can fill out a teen volunteer application here. Whether you volunteer a little or a lot, we have a variety of fun and exciting options for you. If you're 18, you can apply to be an adult volunteer - download the adult application here.
---
The Wave Makerspace
Our Makerspace, "The Wave," is located adjacent to our Teen Room and has a wide array of options for teens (as well as older kids and adults). Visit our virtual page: The Wave Makerspace for more information. Schedule a Makerspace Appointment here.
---