Teen Book Lists
We have something for everyone in the Teen Room
Looking to read more books in the new year? Set your 2020 reading challenge goal with GoodReads!
Most books lists contain direct links to our catalog with linked book titles hyperlinked to their specific location in the OCLN catalog for easy borrowing. Check out our carefully currated and seasonal quick lists, or browse our teen room collection by genre or type.
Book Awards (active book awards where you can vote for your favorite):
Current Quick Lists (for archived quick lists, click here):
Winter Reads - cozy up with a good book about finding love and finding yourself
Dystopian Series - start the new year off with some umph and dystopian futures
The Teen Room Collection Lists (books we own listed by genre or type):
YALSA Award Winners (the Young Adult Library Association 2019 award books):
YALSA Pick Lists (links to the Young Adult Library Association 2020 lists):
---
Cozy up during the holidays with a good book about finding love and finding yourself.
10 BLIND DATES BY ASHLEY ALSTON
After an unexpected breakup, seventeen-year-old Sophie lets members of her large, eccentric extended family set her up on ten blind dates during Christmas vacation.
THE CHAOS OF STANDING STILL BY JESSICA BRODY
Ryn, eighteen, trapped by a massive blizzard in the Denver airport, meets some unique characters who help her cope with survivor's guilt on the first anniversary of her best friend's death.
EVERY DAY BY DAVID LEVITHAN
Every morning A wakes in a different person's body, in a different person's life, learning over the years to never get too attached, until he wakes up in the body of Justin and falls in love with Justin's girlfriend, Rhiannon.
IN PARIS WITH YOU BY CLÉMENTINE BEAUVAIS
Ten years after they parted, Tatiana and Eugene meet again in the Paris Metro and begin to explore their past, when they might have fallen in love, as well as their possible future. Originally published in France.
LOVE & OTHER TRAIN WRECKS BY LEAH KONEN
When their train breaks down during a snowstorm, Noah, a hopeless romantic, and Ammy, who refuses to believe in true love, are forced to travel together to reach their destinations.
MY TRUE LOVE GAVE TO ME: 12 HOLIDAY STORIES EDITED BY STEPHANIE PERKNS
If you love holiday stories, holiday movies, made-for-TV-holiday specials, holiday episodes of your favorite sitcoms and, especially, if you love holiday anthologies, you're going to fall in love with My True Love Gave to Me: Twelve Holiday Stories by twelve bestselling young adult writers, edited by the international bestselling Stephanie Perkins. Whether you enjoy celebrating Christmas or Hanukkah, Winter Solstice or New Years, there's something here for everyone. So curl up by the fireplace and get cozy. You have twelve reasons this season to stay indoors and fall in love.
NIGHT OF CAKE & PUPPETS BY LAINI TAYLOR
Set in the same time period as Daughter of Smoke & Bone, Night of Cake & Puppets is the story of Zuzana and Mik's first date, an elaborate scavenger hunt that takes them through the streets of Prague on a cold winter's night.
SOMEWHERE ONLY WE KNOW BY MAURENE GOO
Told from two viewpoints, teens Lucky, a very famous K-pop star, and Jack, a part-time paparazzo who is trying to find himself, fall for each other against the odds through the course of one stolen day.
THEY BOTH DIE AT THE END BY ADAM SILVERA
On September 5, a little after midnight, Death-Cast calls Mateo Torrez and Rufus Emeterio to give them some bad news: They're going to die today. Mateo and Rufus are total strangers, but, for different reasons, they're both looking to make a new friend on their End Day. The good news: There's an app for that. It's called Last Friend, and through it, Rufus and Mateo are about to meet up for one last great adventure--to live a lifetime in a single day.
TOGETHER AT MIDNIGHT BY JENNIFER CASTLE
Teens Kendall and Max witness a tragic accident during the holidays and, racked with guilt, accept a dare to perform seven random acts of kindness to strangers by New Year's Eve. The challenge pulls these two teens, who have a history together from back home, closer and closer as they explore a vibrant city filled with other people's stories and secrets. Kendall and Max can't deny their growing bond, even though they both have other romantic entanglements and uncertain futures. As the clock counts down on New Year's Eve, will they find themselves together at midnight?
A VERY LARGE EXPANSE OF SEA BY TAHEREH MAFI
It's 2002, a year after 9/11. It's an extremely turbulent time politically, but especially so for someone like Shirin, a sixteen-year-old Muslim girl who's tired of being stereotyped. Shirin is never surprised by how horrible people can be. She's tired of the rude stares, the degrading comments--even the physical violence--she endures as a result of her religion and the hijab she wears every day. So she's built up protective walls and refuses to let anyone close enough to hurt her. But then she meets Ocean James. He's the first person in forever who really seems to want to get to know Shirin. It terrifies her--they seem to come from two irreconcilable worlds--and Shirin has had her guard up for so long that she's not sure she'll ever be able to let it down.
WE ARE OKAY BY NINA LACOUR
Marin has picked up and left everything behind in California, carrying only her phone, her wallet, and a picture of her mother. Now she's in college, and her former friend Mabel is coming to visit. Marin will be forced to confront her grief and the truths that caused her to flee her home.
WHAT LIGHT BY JAY ASHER
Sierra's family runs a Christmas tree farm in Oregon it's a bucolic setting for a girl to grow up in, except that every year, they pack up and move to California to set up their Christmas tree lot for the season. So Sierra lives two lives: her life in Oregon and her life at Christmas. And leaving one always means missing the other.
---
Explore darkly imagined future North America and beyond.
ANGELFALL BY SUSAN EE
It's been six weeks since angels of the apocalypse descended to demolish the modern world. When warrior angels fly away with a helpless little girl, her seventeen-year-old sister Penryn will do anything to get her back, including making a deal with an enemy angel, Raffe,a warrior she finds broken and wingless on the street. They have only each other to rely on for survival as they journey toward the angels' stronghold in dark and twisted San Francisco.
CINDER BY MARISA MEYER
As plague ravages the overcrowded Earth, observed by a ruthless lunar people, Cinder, a gifted mechanic and cyborg, becomes involved with handsome Prince Kai and must uncover secrets about her past in order to protect the world in this futuristic take on the Cinderella story.
DIVERGENT BY VERONICA ROTH
In a future Chicago, sixteen-year-old Beatrice Prior must choose among five predetermined factions to define her identity for the rest of her life, a decision made more difficult when she discovers that she is an anomoly who does not fit into any one group, and that the society she lives in is not perfect after all.
DRY BY NEAL SHUSTERMAN*
A lengthy California drought escalates to catastrophic proportions, turning Alyssa's quiet suburban street into a warzone, and she is forced to make impossible choices if she and her brother are to survive.
*Stand-alone novel
THE GIVER BY LOIS LOWRY
Living in a "perfect" world without social ills, a boy approaches the time when he will receive a life assignment from the Elders, but his selection leads him to a mysterious man known as the Giver, who reveals the dark secrets behind the utopian facade.
GONE BY MICHAEL GRANT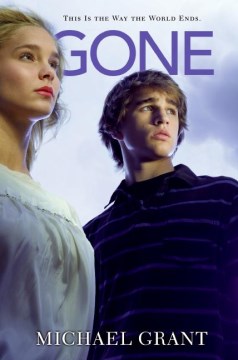 In a small town on the coast of California, everyone over the age of fourteen suddenly disappears, setting up a battle between the remaining town residents and the students from a local private school, as well as those who have "The Power" and are able to perform supernatural feats and those who do not.
THE HOUSE OF THE SCORPION BY NANCY FARMER
In a future where humans despise clones, Matt enjoys special status as the young clone of El Patraon, the 142-year-old leader of a corrupt drug empire nestled between Mexico and the United States.
THE HUNGER GAMES BY SUZANNE COLLINS
In a future North America, where the rulers of Panem maintain control through an annual televised survival competition pitting young people from each of the twelve districts against one another, sixteen-year-old Katniss's skills are put to the test when she voluntarily takes her younger sister's place.
INTERNMENT BY SAMIRA AHMED*
Set in a horrifying near-future United States, seventeen-year-old Layla Amin and her parents are forced into an internment camp for Muslim American citizens.With the help of newly made friends also trapped within the internment camp, her boyfriend on the outside, and an unexpected alliance, Layla begins a journey to fight for freedom, leading a revolution against the camp's Director and his guards.
*Stand-alone novel
LEGEND BY MARUE LU
In a dark future, when North America has split into two warring nations, fifteen-year-olds Day, a famous criminal, and prodigy June, the brilliant soldier hired to capture him, discover that they have a common enemy.
MATCHED BY ALLY CONDIE
Cassia has always trusted the Society to make the right choices for her: what to read, what to watch, what to believe. So when Xander's face appears on-screen at her Matching ceremony, Cassia knows with complete certainty that he is her ideal mate . . . until she sees Ky Markham's face flash for an instant before the screen fades to black. The Society tells her it's a glitch, a rare malfunction, and that she should focus on the happy life she's destined to lead with Xander. But Cassia can't stop thinking about Ky, and as they slowly fall in love, Cassia begins to doubt the Society's infallibility and is faced with an impossible choice: between Xander and Ky, between the only life she's known and a path that no one else has dared to follow.
THE MAZE RUNNER BY JAMES DASHNER
Sixteen-year-old Thomas wakes up with no memory in the middle of a maze and realizes he must work with the community in which he finds himself if he is to escape.
PURE BY JULIANNA BAGGOTT
In a post-apocalyptic world, Pressia, a sixteen-year-old survivor with a doll's head fused onto her left hand meets Partridge, a "Pure" dome-dweller who is searching for his mother, sure that she has survived the cataclysm.
SCYTHE BY NEAL SHUSTERMAN
In a world where disease has been eliminated, the only way to die is to be randomly killed ('gleaned') by professional reapers ('scythes'). Two teens must compete each other to become a scythe--a position neither of them wants. The one who becomes a scythe must kill the one who doesn't.
THE SELECTION BY KIERA CASS
Sixteen-year-old America Singer is living in the caste-divided nation of Illea, which formed after the war that destroyed the United States. America is chosen to compete in the Selection--a contest to see which girl can win the heart of Illea's prince--but all she really wants is a chance for a future with her secret love, Aspen, who is a caste below her.
UGLIES BY SCOTT WESTERFELD
Just before their sixteenth birthdays, when they will will be transformed into beauties whose only job is to have a great time, Tally's best friend runs away and Tally must find her and turn her in, or never become pretty at all.
WARCROSS BY MARIE LU
When teenage coder Emika Chen hacks her way into the opening tournament of the Warcross Championships, she glitches herself into the game as well as a sinister plot with major consequences for the entire Warcross empire.
---
Ten adult books with strong teen appeal. Click here to learn more about the Alex Awards.
THE BLACK GOD'S DRUMS BY P. DJÈLÍ CLARK
Creeper has her sights on leaving the streets of New Orleans and starting a new adventure on an airship. But first she will need to partner with the reluctant Captain Ann-Marie to save a kidnapped Haitian scientist and stop the use of a dangerous weapon. Wildly original with spy nuns and sky pirates, this steampunk alternate history is a winning adventure.
THE BOOK OF ESSIE BY MEGHAN MACLEAN WEIR
Essie, the youngest family member of Evangelical television reality stars, is pregnant and refuses to name the father. The showrunners--and her parents--decide the best solution is for Essie to marry quickly with lots of hype to increase ratings. Celebrity, scandal, and reality TV make for a wicked, compulsively readable combination.
CIRCE BY MADELINE MILLER
Spurned by her fellow gods for her lack of beauty and power, minor goddess Circe seeks out mortals instead and finds in herself a new ability: witchcraft, and the power to transform men into monsters. Coming of age over the span of a thousand years, Circe--and the reader--must find safe harbor in this ongoing epic of gods and men.
EDUCATED: A MEMOIR BY TARA WESTOVER
Raised in an extremist family and barely homeschooled, Tara Westover decides that education is more important than family. Breaking ties, forging new relationships, and unlearning much of what she's grown up "knowing" prove to be nearly insurmountable. This stirring memoir shows that ignorance is not bliss, and that knowledge is power.
THE GIRL WHO SMILED BEADS: A STORY OF WAR AND WHAT COMES AFTER BY CLEMENTINE WAMARIYA AND ELIZABETH WEIL
In 1994, six-year-old Clemantine and her fifteen-year-old sister flee the Rwandan Genocide and spend the next six years surviving refugee camps before arriving in America. This is Clemantine's story--that of a survivor, a refugee, and an immigrant who defies stereotype time and time again.
GREEN BY SAM GRAHAM-FELSEN
In 1992 Boston, David Greenfield hates being one of the few white kids in his middle school where even his former best friend bullies him. He connects with a boy from the projects, but competition cause a rift in their blossoming friendship. A timely historical fiction, "Green" explores race, class, minority status, and the daily injustices of middle school life.
HOME AFTER DARK BY DAVID SMALL
After his mother abandons them, his father uproots thirteen-year-old Russell Pruitt to a rundown town in 1950s California. Russell tries to fit in while navigating a landscape of homophobic bullies and a serial animal killer. David Small's storytelling and lush illustrations capture all the uncertainties of adolescence in this coming of age story.
HOW LONG 'TIL BLACK FUTURE MONTH? BY N. K. JEMISON
Author N.K. Jemison is a master worldbuilder, and this collection of short stories is a weird, wild, and original reimagining of both the past and the future, celebrating resistance and action and speaking truth to power.
LAWN BOY BY JONATHAN EVISON
Twenty-something Mike Muñoz is passionate about the art of landscaping--a fresh cut lawn and a creative topiary. Caught between taking care of his mother and brother and trying to strike out on his own, Mike is not-so-patiently waiting for a lucky break. His struggle is familiar and heartbreaking, and it's impossible not to root for him as he chases the elusive American Dream.
SPINNING SILVER BY NAOMI NOVIK
Miryem has earned a reputation for turning silver into gold, but soon her talent gains unwanted attention from a cold, cruel fae king. Now Miryem finds herself trapped in a bargain that will change her life and the lives of those around her in this magical, multilayered fairy tale.
---
Honors a book published by a first-time author writing for teens and celebrating impressive new voices in young adult literature. For more information about the Morris Awards, click here.
WINNER: DARIUS THE GREAT IS NOT OKAY BY ADIB KHORRAM
Marked by depression and high-school unpleasantness, Darius' lackluster existence takes an unexpected turn when he travels to Iran to meet his grandparents for the first time. There, a meaningful friendship opens up new possibilities to Darius, whose sensitive soul-searching will resonate with many teens.
FINALIST: BLOOD WATER PAINT BY JOY MCCULLOUGH
In this novel, told primarily in verse, history's Artemisia Gentileschi is developing into a brilliant artist when the teacher hired by her father sexually assaults her. Finding courage and strength in the stories of other women, Artemisia bravely accuses her attacker in court, an act unheard of in the 1600s.
FINALIST: CHECK, PLEASE! #HOCKEY BY NGOZI OKAZU
Using witty dialogue, a subtle gay romance, and lots of references to Bitty's baking, Ukazu dives deep into bro-culture and demolishes toxic masculinity in this well-crafted graphic novel, which follows Eric "Bitty" Bittle and his hockey team through their years at Samwell University. Teens will be ready to devour the next installment of this unabashedly charming story.
FINALIST:CHILDREN OF BLOOD AND BONE BY TOMI ADEYEMI
In Orïsha, diviners and maji were revered for their abilities, until tyrannical King Saran forced magic from the kingdom. When his daughter, Amari, flees the palace with an ancient relic, she meets 17-year-old diviner Zélie. Together, they undertake a quest to restore the kingdom's magic, but Amari's brother is determined to keep his father's legacy intact.
FINALIST: WHAT THE NIGHT SINGS BY VESPER STAMPER
This is a haunting, first-person account of Gerta, a musically talented teenager, who learns of her Jewish heritage only after being sent to Auschwitz and, later, Bergen-Belsen. Torn from her father, she clings to his viola and discovers her own voice and strength after the liberation. Lovely, lyrical prose and ethereal illustrations make Stamper's unusual story sing.
---
Honors the best nonfiction book published for young adults. For more information about the Nonfiction Awards, click here.
WINNER: THE UNWANTED: STORIES OF THE SYRIAN REFUGEES BY DON BROWN
Unwanted by their own country, unwanted by other countries, Syria's refugees are between a rock and a hard place. Staying in Syria is far too dangerous – violence is constant and pervasive. Leaving Syria is fraught with peril - crossing the desert, falling victim to con artist smugglers, and fatal journeys by boat.
FINALIST: THE BELOVED WORLD OF SONIA SOTOMAYOR BY SONIA SOTOMAYOR
A portrait of determination and strength, U.S. Supreme Court Justice Sonia Sotomayor describes her rise from a trying childhood in the South Bronx. Offering full credit to those who helped along the way, this beloved Justice offers gentle advice for young readers.
FINALIST: BOOTS ON THE GROUND: AMERICA'S WAR IN VIETMAN BY ELIZABETH PARTRIDGE
A chronological account of the Vietnam War as experienced at home and in the field, from a wide variety of perspectives. Stories of eight young soldiers are highlighted by means of personal interviews and thoughtfully chosen photographs.
FINALIST: THE FAITHFUL SPY: DIETRICH BONHOEFFER AND THE PLOT TO KILL HITLER BY JOHN HENDRIX\
A true and gripping spy story, this graphic biography describes pivotal moments in the career of Dietrich Bonhoeffer, whose religious faith led him to devote his life to the German Resistance to Hitler. Visual metaphors in the powerful illustrations convey the looming danger.
FINALIST: HEY, KIDDO: HOW I LOST MY MOTHER, FOUND MY FATHER, AND DEALT WITH FAMILY ADDICTION BY JARRETT J. KROSOCZKA
A raw graphic memoir, author-illustrator Jarrett J. Krosoczka depicts his complex upbringing - including a search for his father, difficult interactions with his heroin-addicted mother, and day-to-day life with his grandparents. Illustrations–ample in gray, burnt orange, and earth tones–conjure the feeling of vague memories.
---
Awards a book that exemplifies literary excellence in young adult literature. It is named for a Topeka, Kansas school librarian who was a long-time active member of the Young Adult Library Services Association. For more information about the Printz Award, click here.
WINNER: THE POET X BY ELIZABETH ACEVEDO
Acevedo transforms everyday language into transcendent imagery in this novel-in-verse about Xiomara, who struggles to come into her own power amid her restrictive upbringing. Over the course of these lyrical, expressive, and honest poems, she grows from speaking with her fists to embracing her identity as the Poet X.
HONOR BOOK: DAMSEL BY ELANA K. ARNOLD
Ama has no memory of what comes before she wakes in Prince Emory's arms, but she's no ordinary damsel in distress. Using the language of classic fairy tales to shatter familiar tropes, Arnold asks readers to confront the ways systemic violence against women pervades cultural touchstones.
HONOR BOOK: A HEART IN A BODY IN THE WORLD BY DEB CALETTI
Struggling with PTSD in the wake of a terrifying tragedy, Annabelle decides to run across the country in a physically demanding journey that mirrors the circuitous path of her emotional recovery. Caletti insightfully explores trauma, loss, and guilt while illuminating the damaging expectations our culture places on teenage girls.
HONOR BOOK: I, CLAUDIA BY MARY MCCOY
In this political thriller set in a privileged high school, underestimated and unreliable narrator Claudia chronicles her rise to power. Sharp, biting humor pervades McCoy's novel about vicious high school students embroiled in an explosive struggle for control.
---
Final selections are in for the 2019 Teens' Top Ten. Teens across the United States have spoken, and these are the winners. Scroll through our list or view the PDF list with annotations here.
#1: #MURDERTRENDING BY GRETCHEN MCNEIL
Dee has been wrongfully convicted and sent to an island dubbed Alcatraz 2.0., where the worst criminals are murdered in terrifyingly creative ways for an app called Postman. She refuses to go down when she knows she's innocent. Can she make it out with her Death Row Breakfast Club before they're all killed off one by one?
#2: WILDCARD BY MARIE LU
After making it out of the Warcross Championships alive, Emika Chen is determined to stop Hideo's NeuroLink algorithm that can control minds. As Emika bands with the Phoenix Riders, she finds herself under a bounty, one that makes her chances of survival depend on Zero and the Blackcoats. Emika soon learns that Zero isn't what he seems - and that his protection comes at a price.
#3: THE CRUEL PRINCE BY HOLLY BLACK
A human raised in the world of faeries, 17-year-old Jude does whatever is necessary to rise to the top, even if it means going against her own values. As she cuts her path into the dangerous world of Faerie court, she also must make choices concerning not only her family, but also her heart.
#4: THUNDERHEAD BY NEIL SHUSTERMAN
In the future, the Thunderhead is the perfect ruler of a perfect world, but its perfect world is starting to spiral out of control. Rowan is hunting down scythes that have abused their position, and Citra is challenging old ideas as Scythe Anastasia. When Citra's life is put in danger, and other forces come into play, the Thunderhead is forced to watch as his world crashes down.
#5: CHILDREN OF BLOOD AND BONE BY TOMI ADEYEMI
Zelie Adebola is a diviner, daughter of a powerful Maji. But magic died after the treacherous King Saran found out how to destroy it and killed every Maji in Orisha, including her mother. Now Zelie must fight through pain and hardship to get magic back for the sake of her people and Orisha itself.
#6: THE PRINCE AND THE DRESSMAKER BY JEN WANG
Prince Sebastian has a secret that he keeps from everyone else. At night, he puts on a dress and disguises as Lady Crystallia. Only his dressmaker Frances knows about it. This means that both the prince and Frances would have to keep this a secret. But can Frances continue to defer her dreams to protect a friend?
#7: AMERICAN PANDA BY GLORIA CHAO
17-year-old Taiwanese Mei is excited to finally be enjoying college life at MIT. What's less exciting, though, is the family pressure to become a doctor despite being a major germaphobe with a passion for dancing rather than anything medical. Things don't get any less complicated when Mei develops a forbidden crush on her Japanese classmate, Darren. Connecting with Darren against her parents' wishes, Mei begins to realize her own individual cultural identity.
#8: BATMAN: NIGHTWALKER BY MARIE LU
Bruce Wayne is about to inherit his parents' fortune and their company, but first must do community service and ends up volunteering at Arkham Asylum. There, he meets Madeline who is unlike any one he has ever seen. Bruce must uncover why Madeline is there in the first place to make sure the people he cares about don't end up dead.
#9: SPEAK: THE GRAPHIC NOVEL BY LAURIE HALSE ANDERSON
Melinda has a terrible secret; she was raped at a party during the summer by a high school senior. When she starts high school in the fall, she is shunned by her classmates because she called the police to the party at which she was attacked. This graphic novel describes her imminent struggle to overcome the shame of being a victim and an outcast.
#10: THE POET X BY ELIZABETH ACEVEDO
Xiomara Batista feels unheard and unable to hide in her Harlem neighborhood. Ever since her body grew into curves, she has learned to let her fists and her fierceness do the talking. But Xiomara has plenty she wants to say, and she pours all her frustration and passion onto the pages of a leather notebook. When she discovers slam poetry, it becomes a way to help her understand her mother's religion and her own relationship to the world.
Looking for more? Check out our archived Quick Lists below!
---
Archived Quick Lists
Never miss a past title!
Quick Lists are ordered from most recently to oldest archive.
Click to jump to a list:
---
THE DEAD GIRLS OF HYSTERIA HALL BY KATIE ALENDER
Sixteen-year-old Cordelia and her family move into the house they just inherited in Pennsylvania, a former insane asylum the locals call Hysteria Hall--unfortunately the house does not want defiant girls like Delia, so it kills her, and as she wanders the house, meeting the other ghosts and learning the dark secrets of the Hall, she realizes that she has to find a way to save her sister, parents, and perhaps herself.
UNSPOKEN BY SARAH REES BRENNAN
Kami Glass is in love with someone she's never met--a boy she's talked to in her head since she was born. This has made her an outsider in the sleepy English town of Sorry-in-the-Vale, but she has learned ways to turn that to her advantage. Her life seems to be in order, until disturbing events begin to occur. There has been screaming in the woods and the manor overlooking the town has lit up for the first time in 10 years. The Lynburn family, who ruled the town a generation ago and who all left without warning, have returned. Now Kami can see that the town she has known and loved all her life is hiding a multitude of secrets--and a murderer. The key to it all just might be the boy in her head. The boy she thought was imaginary is real, and definitely and deliciously dangerous.
THE GIRL FROM THE WELL BY RIN CHUPECO
Okiku has wandered the world for centuries, freeing the innocent ghosts of the murdered-dead and taking the lives of killers with the vengeance they are due, but when she meets Tark she knows the moody teen with the series of intricate tattoos is not a monster and needs to be freed from the demonic malevolence that clings to him.
CORALINE BY NEIL GAIMAN
Looking for excitement, Coraline ventures through a mysterious door into a world that is similar, yet disturbingly different from her own, where she must challenge a gruesome entity in order to save herself, her parents, and the souls of three others.
PRIDE AND PREJUDICE AND ZOMBIES BY SETH GRAHAME-SMITH
In this retelling of Jane Austen's Pride and Prejudice, a mysterious plague has fallen upon the quiet English village of Meryton--and the dead are returning to life! Feisty heroine Elizabeth Bennet is determined to wipe out the zombie menace, but she's soon distracted by the arrival of the haughty and arrogant Mr. Darcy.
THE FALL BY BETHANY GRIFFIN
A retelling of Edgar Allen Poe's 'The Fall of the House of Usher' in which Madeline and her twin brother, Roderick, suffer from the Usher family illness but she hears the House talking to her, filling her dreams, controlling her actions, and ensuring she never leaves the property.
THE LONELY DEAD BY APRIL HENRY
When schizophrenic Adele, who possesses a paranormal gift, is implicated in an investigation that involves the murder of her ex-best friend Tori, Adele must work with Tori's ghost to find the killer.
WHEN THE MOON WAS OURS BY ANNA-MARIE MCLEMORE
To everyone who knows them, best friends Miel and Sam are as strange as they are inseparable. Roses grow out of Miel's wrist, and rumors say that she spilled out of a water tower when she was five. Sam is known for the moons he paints and hangs in the trees and for how little anyone knows about his life before he and his mother moved to town. But as odd as everyone considers Miel and Sam, even they stay away from the Bonner girls, four beautiful sisters rumored to be witches. Now they want the roses that grow from Miel's skin, convinced that their scent can make anyone fall in love. And they're willing to use every secret Miel has fought to protect to make sure she gives them up.
WILDER GIRLS BY RORY POWER
Friends Hetty, Byatt, and Reece go to extremes trying to uncover the dark truth about the mysterious disease that has had them quarantined at their boarding school on a Maine island.
THE FOREST OF HANDS AND TEETH BY CARRIE RYAN
Through twists and turns of fate, orphaned Mary seeks knowledge of life, love, and especially what lies beyond her walled village and the surrounding forest, where dwell the unconsecrated, aggressive flesh-eating people who were once dead.
THE LOVELY BONES BY ALICE SEBOLD
This is the tale of family, memory, love, and living told by 14-year-old Susie Salmon, who is already in heaven. Susie relates the awful events of her death and builds out of her family's grief a hopeful and joyful story.
THORNHILL BY PAM SMY
Parallel plotlines set in different times, one told in text and one in art, inform each other as a young girl unravels the mystery of a ghost next door.
SHIVER BY MAGGIE STIEFVATER
In all the years she has watched the wolves in the woods behind her house, Grace has been particularly drawn to an unusual yellow-eyed wolf who, in his turn, has been watching her with increasing intensity.
THE STEEP AND THORNY WAY BY CAT WINTERS
A sixteen-year-old girl in rural Oregon in the 1920s searches for the truth about her father's death while avoiding trouble from the Ku Klux Klan in this YA historical novel inspired by Shakespeare's Hamlet.
---
Links:
Book Titles for Motivation and Inspiration:
STORY GENIUS BY LISA CRON
This writing guide reveals how to build a scene-by-scene blueprint for a riveting story. Cron takes you, step-by-step, through the creation of a novel from the first glimmer of an idea, to a complete multilayered blueprint--including fully realized scenes--that evolves into a first draft with the authority, richness, and command of a riveting sixth or seventh draft.
THE MONSTER BOOK OF MANGA BY ESTUDIO JOSO
The popularity of manga continues to row, inspiring interest in learning how to draw in this exciting style of comics. Estudio Joso creates the ultimate guide to illustration--384 pages of manga instruction. The Monster Book of Manga is divided into sections focusing on the most figures and themes--Girls, Boys, Samurais, Monsters, and more. Each illustration is broken down into six stages accompanied by step-by-step instructions, taking the artist from initial back-and-white sketches to the final color piece. They are all accompanied by practical suggestions, hints, and tips.
WRITING RADAR BY JACK GANTOS
With the signature wit and humor that have garnered him legions of fans, Jack Gantos instructs young writers on using their "writing radar" to unearth story ideas from their everyday lives. Incorporating his own misadventures as a developing writer, Gantos inspires readers to build confidence and establish good writing habits as they create, revise, and perfect their stories.
THE WAR OF ART BY STEVEN PRESSFIELD
In this powerful, straight-from-the-hip examination of the internal obstacles to success, bestselling author Steven Pressfield shows readers how to identify, defeat, and unlock the inner barriers to creativity. The War of Art is an inspirational, funny, well-aimed kick in the pants guaranteed to galvanize every would-be artist, visionary, or entrepreneur.
BRAVE THE PAGE BY REBECCA STERN AND GRANT FAULKNER
This book champions NaNoWriMo's central mission that everyone 's stories deserve to be told. The volume includes chapters on character, plot, setting, and the like; motivating essays from popular authors; advice on how to commit to your goals; a detailed plan for writing a novel or story in a month; and more!
---
RED QUEEN BY VICTORIA AVEYARD

4 books. Mare Barrow's world is divided by blood—those with common, Red blood serve the Silver-blooded elite, who are gifted with superhuman abilities. Mare is a Red, scraping by as a thief in a poor, rural village, until a twist of fate throws her in front of the Silver court. Before the king, princes, and all the nobles, she discovers she has an ability of her own.
SIX OF CROWS BY LEIGH BARDUGO

2 books. Six dangerous outcasts. One impossible heist. Kaz's crew is the only thing that might stand between the world and destruction--if they don't kill each other first.
PASSENGER BY ALEXANDRA BRACKEN

2 books. Two worlds collide in this sweeping, romantic novel about a love that crosses centuries. "This time-traveling adventure is rich in detail, the slowburning relationship between Etta and Nicholas will leave many readers breathless, and the startling cliffhanger will reel them back for the next installment."―Booklist
A GREAT AND TERRIBLE BEAUTY BY LIBBA BRAY

3 books. After the suspicious death of her mother in 1895, sixteen-year-old Gemma returns to England, after many years in India, to attend a finishing school where she becomes aware of her magical powers and ability to see into the spirit world.
GRACELING BY KRISTEN CASHORE

3 books. In a world where some people are born with extreme and often-feared skills called Graces, Katsa struggles for redemption from her own horrifying Grace, the Grace of killing, and teams up with another young fighter to save their land from a corrupt king.
THE YOUNG ELITES BY MARIE LU

3 books. "Adelina Amouteru is a walking wound. A deadly fever has ravaged her country, killing many and leaving others marked in strange and dangerous ways. Adelina is a survivor who carries two marks: once-black hair has turned silver, and her left eye is gone. Known as malfettos, those scarred by the disease are considered bad luck, even dangerous. There are rumors that some survivors have magical abilities, and after a dark confrontation with her power-hungry father, Adelina discovers that the fever may have left her with more than scars after all. Thrust into a group of rebel malfettos, the Young Elites, Adelina realizes the extent of her latent powers."―Booklist
A COURT OF THORNS AND ROSES BY SARAH J. MAAS

4 books. Dragged to a treacherous magical land she only knows about from stories, Feyre discovers that her captor is not an animal, but Tamlin, a High Lord of the faeries. As her feelings toward him transform from hostility to a firey passion, the threats against the faerie lands grow. Feyre must fight to break an ancient curse, or she will lose Tamlin forever.
MARK OF THE THIEF BY JENNIFER NIELSEN

3 books. When Nic, a slave in the mines outside of Rome, is forced to enter a sealed cavern containing lost treasures of Julius Caesar, he finds himself in possession of an ancient amulet filled with magic once reserved for the Gods, and becomes the center of a conspiracy to overthrow the emperor and destroy Rome.
SABRIEL BY GARTH NIX

5 books. Sabriel, daughter of the necromancer Abhorsen, must journey into the mysterious and magical Old Kingdom to rescue her father from the Land of the Dead.
AKATA WITCH BY NNEDI OKORAFOR

2 books. Twelve-year-old Sunny Nwazue, an American-born albino child of Nigerian parents, moves with her family back to Nigeria, where she learns that she has latent magical powers which she and three similarly gifted friends use to catch a serial killer.
MISS PEREGRINE'S HOME FOR PECULIAR CHILDREN BY RANSOM RIGGS

4 books. After a family tragedy, Jacob feels compelled to explore an abandoned orphanage on an island off the coast of Wales, discovering disturbing facts about the children who were kept there.
AN EMBER IN THE ASHES BY SABAA TAHIR

3 books. Laia is a Scholar living under the iron-fisted rule of the Martial Empire. When her brother is arrested for treason, Laia goes undercover as a slave at the empire's greatest military academy in exchange for assistance from rebel Scholars who claim that they will help to save her brother from execution.
DAUGHTER OF SMOKE AND BONE BY LAINI TAYLOR

3 books. Seventeen-year-old Karou, a lovely, enigmatic art student in a Prague boarding school, carries a sketchbook of hideous, frightening monsters--the chimaerae who form the only family she has ever known.
---